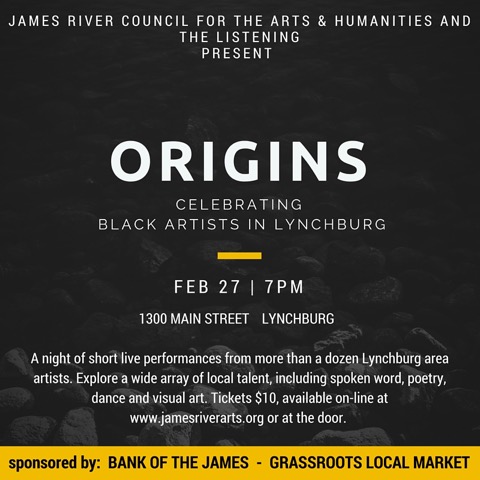 Origins - 1 Night Only
Saturday, February 27th at 1300 Main Street. Doors open at 6:30pm. Show begins at 7pm.
** Note: Advanced Tickets are now SOLD OUT. There are plenty of tickets left, but you'll have to get them at the door. Be sure to arrive early -- and bring cash for faster entry. **
Join us for a night of unforgettable performances about Origins, including more than a dozen short pieces from local Lynchburg artists, sharing their creative and cultural origin stories. You'll experience spoken word poetry, dance, photography, and musicians. Get a taste for the deep well of talent that our local community holds, and identify new artists to follow in 2016.
Note: Click "add to cart" once for each ticket you want to purchase. Make sure that you have the right number of tickets when you check out!
sold out
Light refreshments will be served
Cash bar for beer and wine (please bring ID)
Photo booth
To honor the culmination of Celebrate: Diversity: Black Artists in Lynchburg, we are asking all participating artists and attendees to come dressed in Red, Black, and/or Green, the colors of the Pan-African flag.
Learn more about The James River Council for the Arts and Humanities
Learn more about The Listening
Learn more about our Sponsors