"Keys for the Hill City" Public Art Project (2014-2015)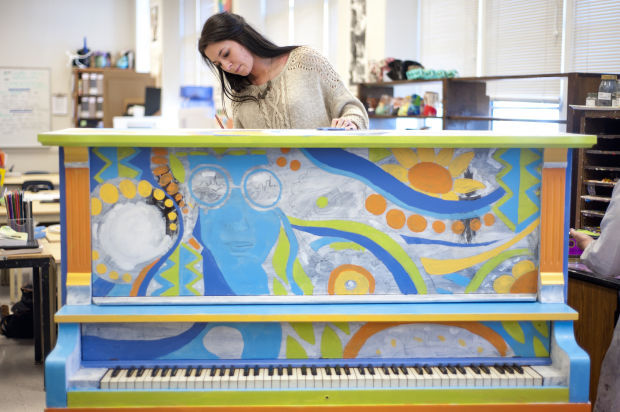 Introducing "Keys for the Hill City" Public Art project — an exciting new arts and music installation in Downtown Lynchburg, sponsored by the James River Council for the Arts & Humanities and coordinated by volunteer Libby Fitzgerald.
This project, adapted from a similar project in Lancaster, Pennsylvania, has also been done in other cities across the country, including Seattle, San Francisco and New York, with great success. It consists of putting donated upright pianos, creatively painted by local artists, on the streets of a downtown area for anyone to play at any time of day and for passersby to enjoy.
Five pianos were delivered to five participating high schools — EC Glass, Heritage, Brookville, Jefferson Forest and VES, in February. The project has already generated excitement, anticipation, support, and pride within those school communities and will give students an opportunity to make a significant civic contribution.
The pianos are placed in five predetermined spots that have overhangs to protect them from rain. On the First Friday of each month through September, we hope to enlist professional pianists and students to play. The pianos will remain on the street until September 30, at which time they may be donated to schools or local community centers. Pianos are located at the Bank of the James, the Parlor Ballroom, the Galleria, Schewel Furniture, and Telitha.
The purpose of the project is to:
To increase public art in the James River Arts and Culture District
To bring more exposure to the James River Council for the Arts and Humanities and to enhance its image as a facilitator of arts and entertainment in the community
To raise funds for public art projects facilitated by the Arts Council
To bring "magical moments" to Downtown Lynchburg that will draw increased crowds of both local citizens and visitors to contribute to our economic vitality.
Many thanks to our collaborators, sponsors and partners:
Bank of the James
Lynchburg Academy of Medicine Auxiliary
Stephan Parry, Shoemaker's and Waterstone
Philip Jamerson, Jamerson Lewis Construction
Clif Coleman, Coleman-Adams Construction
Marc Schewel, Schewel Furniture
Tom Gerdy, Gerdy Construction
Troy Tyree, Piano Mover
T J Mathews, Piano Tuner
James T. Davis Paints
Gladiola Girls
Greg and Becky Porter
Abe Loper, The White Hart
T & E Properties